Products Highlight
Chanto Air Hydraulics Co., Ltd.

Main Products
* Hydraulic Presses * Pneumatic Presses/ Air Presses * Rotary actuators* Pneumatic Grippers * Pneumatic Cylinder * Solenoid Valves * F.R.L. Units* Air-Oil Power Cylinders * Slide Cylinders * Air Quick Fittings * Silencers * Guided Cylinders * Hydraulic Shock * Absorbers * Rotary Index Table * Stopper Cylinders * Clamp Cylinder * Compact Cylinders *SWI * Pneumatic Control System
Profiles
CHANTO was founded in 1982, originally as a dealer and manufacturer of Air Cylinders and pneumatic components. Nowadays, we are willing to invite new partners to join our distributors. We also accept OEM and subcontracting orders from some pneumatic manufacturers. In the field of Fluid power industry, CHANTO plays the role of total solution provider with Flexible, Cost-effective and Quick-response character. The principle of "Top quality, Best Value and Full-range service" helps us win the fierce competition in the World- Wide arenas. We are ready to serve you. In such a fast changing business environment, CHANTO owns the foresight to grasp the significance of this great opportunity and the courage to rise to the challenge. Professionalism and execution involving a diverse array of fluid power products and service is the only way to maintain the trust and patronage of our clients. As a customer-driven company, CHANTO utilizes its design and manufacturing expertise to solve customer's requirements. Since the company views each customer relationship as a long-term partnership. CHANTO is vested in each customer's success. From product concepts through customer's service, the employees of CHANTO take ownership in the effort to make sure that customer needs come first. Products Line- Pneumatic and Hydraulic Components Products Features- Solenoid Valve/F.R.L Combination/Pneumatic Gripper/Pneumatic Cylinder Pneumatic Press/Hydraulic Press/Rotary Actuator
Products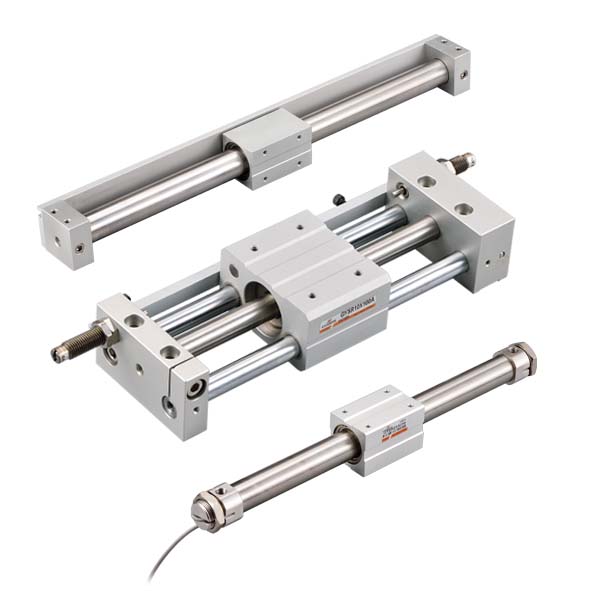 MAGNETICALLY COUPLED RODLESS CYLINDER
1. GYS Series Work objective can be directly mounted. Long stroke is acceptable. No external leakage makes longer life. Reed switch and shock absorber are available. 2. GYB Series Sensors can be installed on both ends for detecting the position easily. Adjustable cushion is optional. 3. GYR Series Direct mounting type can be installed derectly. Piping type is optional. 4. There are two sidesfor installation/connection on the slide table. There are direction and sensor groove on the side. Sensors can be installed directly.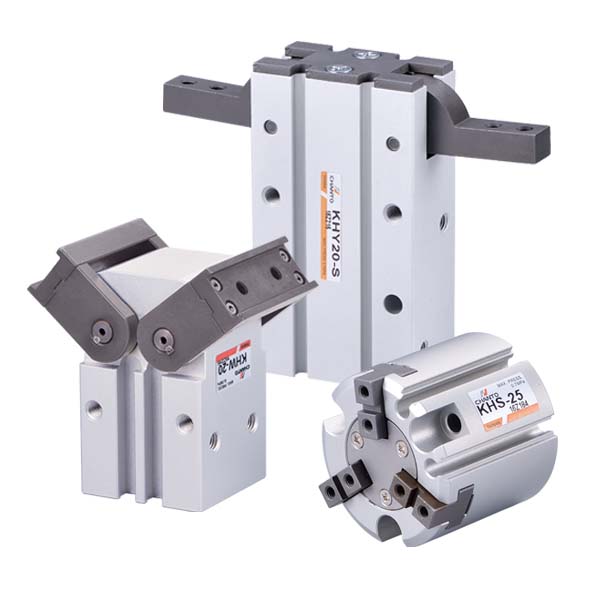 GRIPPER
1. KHY Series 180° cam style. 2. Light and compact size in small bore sizes 3. KHS Series Embedded mounting groove is compact and easy for the switch installation. 4. Space-saving, compact design with reduced weight. 5. KHW Series 180° rack & pinion style. 6. Key connection is ideal for impact resistance 7. Seal arrangement protects gripper from harsh dusty environments.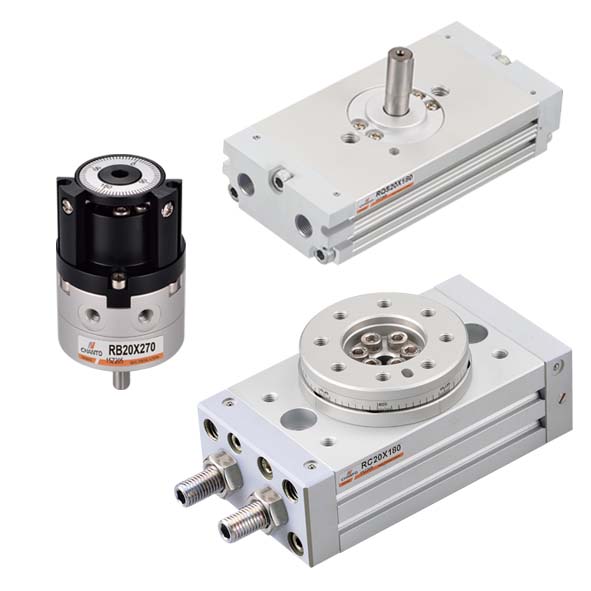 ROTARY ACTUATOR
1. RB/RQ Series Ultra compact design save more mounting space. 2. RC Series Compact construction saves space. 3. RC Series Magnetic piston (all) for reed switch, used to detect input signals. 4. Double the output force by pressurizing at any one port. 5. Adjustable stoppers provide a wide range of shaft stop positions.